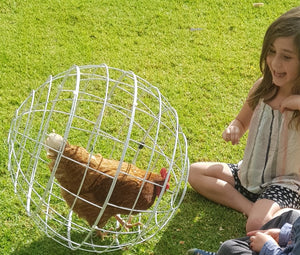 Chicken ORB Chicken Orbs are a supervised chicken foraging enclosure. - 55 cm Perfect for pampered, pet chickens, foraging adventures beyond the backyard boundaries. A modern tool for urban farmers to take control over the when where and how the hens forage. It's foraging chickens, without the Flickin' Chicken Mess.
Chickens in Gardens, Naturally
Chickens love to dig while foraging, but they don't know what your trying to grow and what needs to go; So we designed the Chicken Orb. Now your pet chickens can forage while you work in the garden.
Chicken in Gardens, naturally.
Chicken foraging in gardens are an asset, they love foraging for pest and fresh foliage and the variety in their diet makes for delicious and nutritious eggs. 
This accessory gives chicken owners the control over when where and how the chicken forage.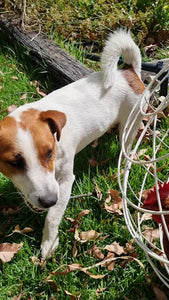 Chicken Protection ?
Chicken Orbs are designed to protect you gardens from the chickens, not chickens from predators.
Think of the orb like a personal space boundary that the enclosed chicken moves, but only at the speed of a steady stroll.
Some orbers say that the chicken orb has allowed their other pet (that are instinctual predators, like dog) share their garden space without the feather ad fury
flying.
This may because some dog instinctually chases when creatures run, so when the chicken can't run, the dogs instinct to chase is not activated.
All animals have various instinctive behaviors that are important for their survival, so it's up to pet owners to know their companions and decided what is
best for all.
Orbing is a supervised activity, who would want to watch their chickens strutting their orbs around!
Click here to learn more
Chickens know.
Chicken like us, learn from experience. It is believed they have the intelligence
of an average 2-year-old human.
Remember to give them plenty of space while they learn to Orb, so they learn
that they are in control of their orbing experience.
Outback Foraging Adventures
Have you ever wondered if your pet chickens would enjoy foraging beyond the boundaries of your backyard? 
Chicken orbing is about allows you pet chickens to forage in places they would not usually go.
Shop NOW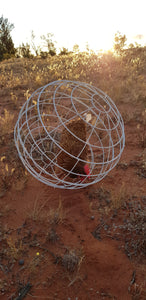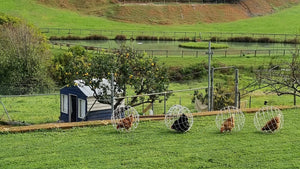 Does the Orb replace my coop??
Nope, it is a very useful accessory, but chicken will still need a coop for
a few reason.
- Chickens need to dustbathe, that's the funny thing they do when flapping
around int he dirt. It's actually a really healthy habit.
-Chicken like to lay the eggs in private. I don't think I'd want spectators
either if I had to lay and egg.
- Not every day is sunshine and rainbows. Chickens are super resilient and
can adapt to almost any environment on earth, but the weather won't always be
suitable for orbing.
Customer Reviews
Chicken Orbs are changing the lives of gardeners and chicken enthusist alike, this is what they have to say.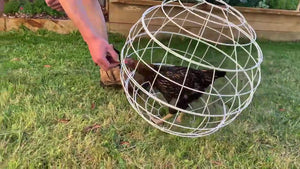 "They're going really well in the orbs, I have them on our front lawn and so many people stop and just love them. It's really cute."
" Thank you! "
Hero Banner
S.F "They were funny to watch first off but they are flying around the yard in them now. Occasionally crashing into each other, but it has been really good"
Rockie the super chook started orbing straight away!
Registered 201913697, US D921,302 S